NWC Receives Funding from Cenovus to Boost StudenT Success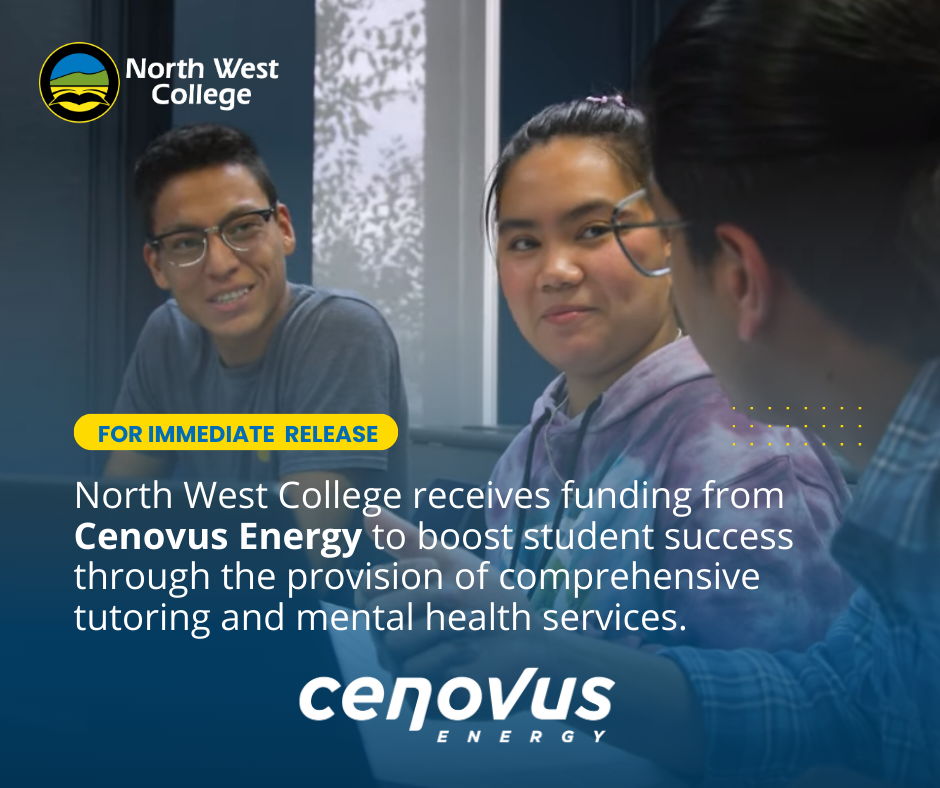 North Battleford, SK – North West College is thrilled to announce a multi-year funding commitment from Cenovus Energy. This commitment will enhance student success and improve graduate employment rates through the provision of comprehensive tutoring and mental health services.
This funding will allow North West College to implement a multifaceted approach to enhancing student success and graduate employability:
Expanding Tutoring Services: North West College will establish an expanded tutoring program that provides students with free access to academic support tailored to their needs. This program will cover a wide range of subjects, empowering students to excel in their coursework.
Enhancing Mental Health Services: The grant will also be utilized to improve mental health services for students, recognizing the importance of mental well-being in overall academic success. North West College will provide a wide range of services such as substance abuse and harm reduction, community and family supports, cultural and traditional events, and provide mental health resources to help students manage stress and personal challenges effectively.
Career Development Workshops: To bolster graduate employment rates, the college will organize workshops and seminars focusing on resume building, interview skills, and job search strategies. These resources will better prepare students for the job market and career advancement.
Dr. Eli Ahlquist, President and CEO of North West College says, "This partnership with Cenovus Energy is a game-changer for North West College and our students. It reflects our shared commitment to education and community development. We are excited to leverage this funding to provide invaluable support to our students, helping them achieve their academic and career goals."
"Cenovus Energy is proud to support North West College in its mission to enhance student success and graduate employment," says Kent Miller, Director, Lloydminster Upgrader Complex with Cenovus Energy. "We believe that investing in education and the well-being of our communities is an essential part of building a brighter future. We look forward to witnessing the positive impact of this collaboration."
North West College is profoundly grateful to Cenovus Energy for its support, which will have a lasting impact on the educational experiences of our students and the success of our graduates. This partnership exemplifies Cenovus Energy's commitment to building stronger, more resilient communities and empowering individuals to reach their full potential.
###
For Media inquiries, please contact:
Tanya Murphy,
Coordinator, Marketing & Communications
North West College
Direct: 306-234-5118
Cell: 306-240-4049
tanya.murphy@northwestcollege.ca