NWC and University of Regina sign Memorandum of Understanding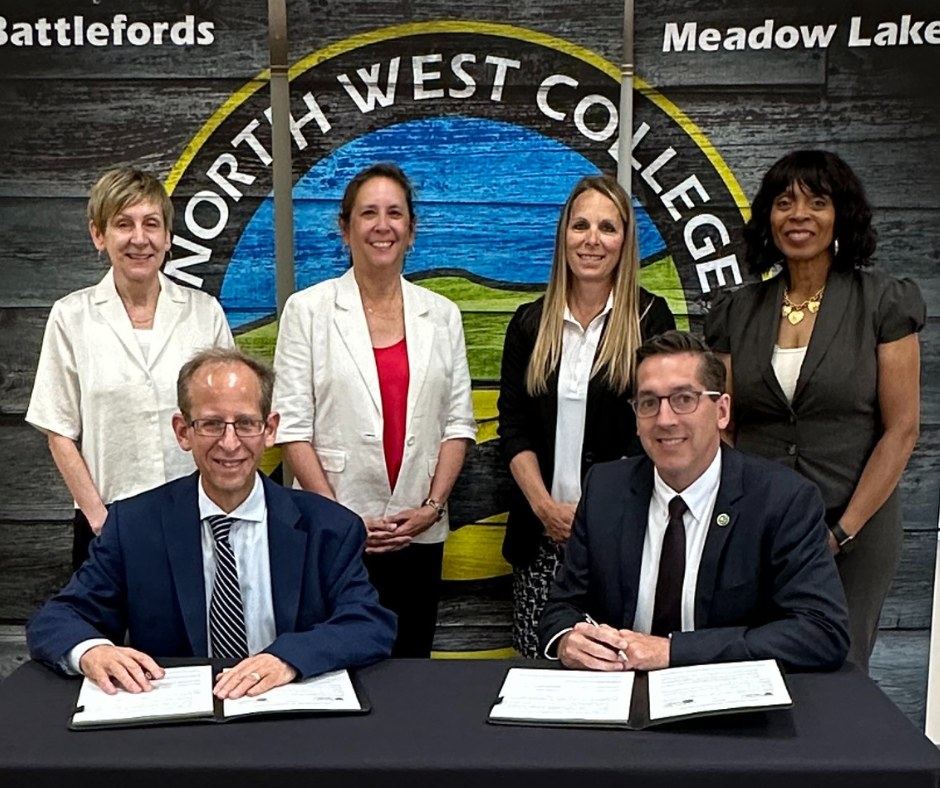 Meadow Lake, SK – Today, University of Regina President, Dr. Jeff Keshen, and North West College President, Dr. Eli Ahlquist signed a Memorandum of Understanding (MOU) to collaborate on the joint delivery of a Community-Based Bachelor of Social Work degree program. This partnership will provide an exciting opportunity for students in northwest Saskatchewan to pursue a comprehensive and high-quality social work education without leaving the region.
The MOU between North West College and the University of Regina marks a significant milestone in addressing the growing need for well-trained social workers in our province.
The programming offered at North West College will offer a cost-effective delivery to both the NWC campuses that meets the needs of rural and Indigenous learners.
"We are thrilled to partner with the University of Regina in offering the Bachelor of Social Work Program," said Dr. Eli Ahlquist, President and CEO of North West College. "Through our collective vision to bridge the gap between urban and rural communities by providing accessible education, this collaboration will not only expand opportunities for our students but also address the pressing need for qualified social workers in our region."
"The signing of this agreement meets an important need in Saskatchewan because it provides for the establishment and joint delivery of a Community–Based Bachelor of Social Work degree in the province's North West region," said Dr. Jeff Keshen, President and Vice-Chancellor of the University of Regina. "The University of Regina is excited to be working with North West College to make our Bachelor of Social Work program more accessible to students who will be able to complete their Social Work degree in or near their home communities in the region."
The Bachelor of Social Work Program is scheduled to commence in the upcoming 2023-24 academic year. Interested students are encouraged to contact North West College for more information on program details, admissions, and enrollment.
###
About North West College
Responding to the needs of students and local industry, for more than four decades, North West College (NWC) delivers training and services to facilitate the growth of the communities it serves. The college offers programs in trades, health and community services, academic upgrading and university transfer. It has campuses in North Battleford and Meadow Lake and provides programming for 30 communities, including 20 First Nations communities, spread over 44,000 sq. km.
About the University of Regina
Set in the heart of the Canadian prairies we are a comprehensive, mid-sized university where the opportunities are as limitless as the horizon. Our campuses are on Treaty 4 and 6 territories - the homelands of the nêhiyawak, Anihšināpēk, Dakota, Lakota, Nakoda, and Michif/Métis nations. It is our responsibility to strengthen relationships with Indigenous communities to build a more inclusive future for all. Our three federated colleges, 10 faculties, 25 academic departments, and 18 research centres foster innovative research with practical and theoretical applications. We are committed to cultivating the potential of our 16,000 students and supporting their health and well-being. We take learning beyond the classroom through work and volunteer experiences to develop career-ready graduates.
Let's go far, together.
For Media Inquiries, please contact:
Tanya Murphy,
Coordinator, Marketing & Communications
North West College
Phone: 306-234-5188
tanya.murphy@northwestcollege.ca
Everett Dorma
University Advancement & Communications
Email: Everett.Dorma@uregina.ca
Phone: 306-565-8608