NWC and USask sign Agreement on Research Ethics Review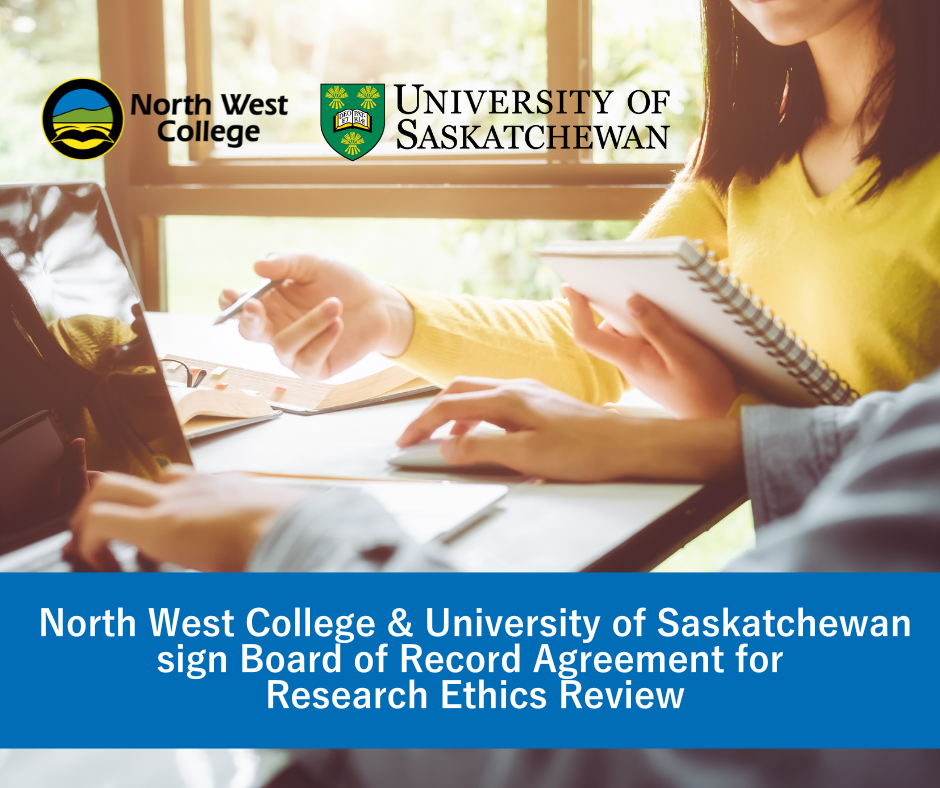 North Battleford, SK – North West College is proud to announce that we have signed an agreement with the University of Saskatchewan to establish a Research Ethics Review Process. This collaboration sets a new standard for research undertaken at the College and ensures that all studies conducted by our organization meet the highest ethical standards. The University will act as the Research Ethics Board for all research activities undertaken at North West College.
This agreement is a critical step as the College prepares to engage in applied research. Applied research is a broad range of research activities that support business and/or community partners to address the challenges they face. This work is supported by the expertise of instructors while simultaneously providing students with practical experience solving real-world problems.
The agreement with the University of Saskatchewan allows a shared commitment to research ethics review and demonstrates our dedication to the responsible conduct of research. Representatives from the College will begin serving on the University Research Ethics Approval Board and all staff will have access to advanced training.
"We are excited to formalize this agreement. It is a signal of our commitment to the highest standard of research and of our belief that participation in applied research is an essential component of higher education. This partnership provides the foundation for our growth in applied research" says Dr. Eli Ahlquist, President and CEO of North West College.
North West College is excited to continue working with the University of Saskatchewan to advance research in a responsible and ethical manner. Our commitment to research ethics is unwavering, and we believe that this agreement will help to achieve a new standard for research practices.
"As one of Canada's top 15 research Universities, USask commits to research, scholarly and artistic work that is rigorous and trusted. We aim to have our research held in the highest regard, be ethically sound, and contribute to the creation, application and refinement of knowledge," said Dr. Baljit Singh, USask vice-president of research. "This agreement with North West College represents a significant step forward in our commitment to ethical research and I look forward to working closely with them as they embark on their applied research endeavors."
Both organizations are committed to promoting ethical research practices and protecting the rights of human subjects. By working together through this agreement, they will ensure that all research conducted by their organizations is conducted ethically and responsibly.


###


About North West College
Responding to the needs of students and local industry, for more than four decades, North West College (NWC) delivers training and services to facilitate the growth of the communities it serves. The college offers programs in trades, health and community services, academic upgrading and university transfer. It has campuses in North Battleford and Meadow Lake and provides programming for 30 communities, including 20 First Nations communities, spread over 44,000 sq. km.
About the University of Saskatchewan
The University of Saskatchewan (USask), located in the vibrant city of Saskatoon on Treaty 6 territory and the traditional homeland of the Métis, is leading the way in tackling pressing problems like water and food security. Research, teaching and learning at USask is enhanced by an array of world-class centres and facilities.
With more than 25,700 students from around the globe, including nearly 3,300 self-declared Indigenous students and more than 3,400 international students, our strong community and well-recognized experts will continue to drive USask to be the university the world needs.
For Media Inquiries, please contact:
Tanya Murphy,
Coordinator, Marketing & Communications
North West College
306-234-5188
tanya.murphy@northwestcollege.ca
Victoria Dinh
Media Relations Specialist
University of Saskatchewan
306-966-5487
victoria.dinh@usask.ca