NORTH WEST COLLEGE LAUNCHES BETTER TOGETHER! CAMPAIGN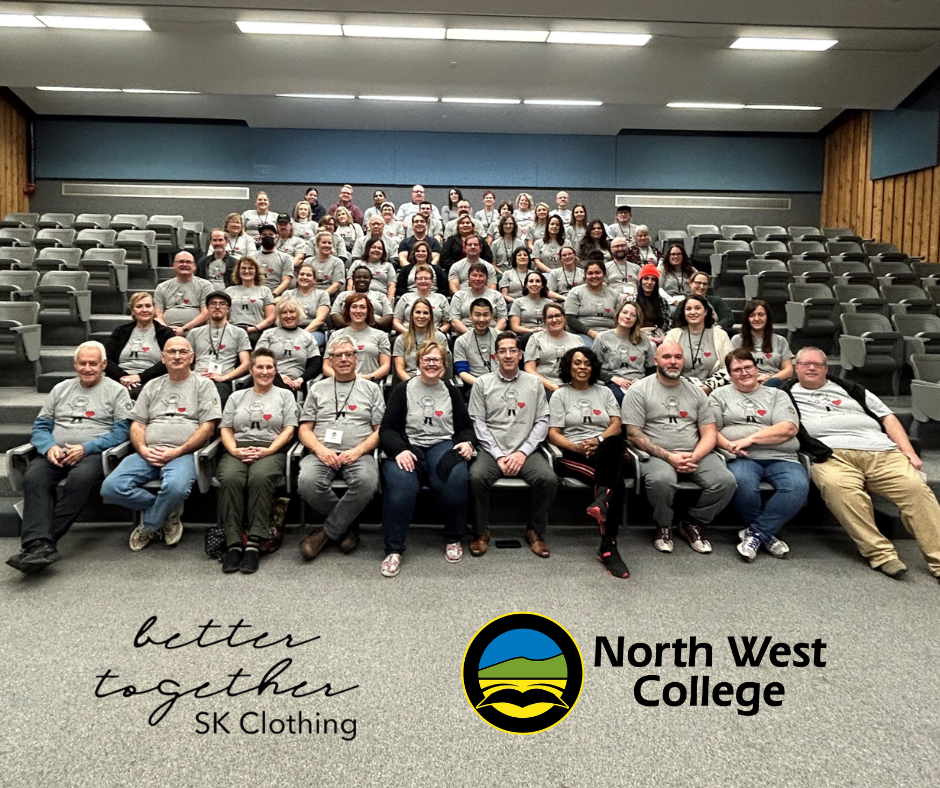 North Battleford, SK – North West College is pleased to announce that we have collaborated to participate in the Better Together! Campaign.
Better Together! was initiated by Pastor Deb McNabb in response to a series of suicides in the Battlefords which deeply impacted the community. Through this experience, and with the support of Allysa Woodrow they healed by creating the Better Together T-Shirt Project.
Their vision was to connect generations by having them wear and share the message "We truly are Better Together. Connected communities are healthy communities." Community members wore Better Together t-shirts and look for a matching logo on Tuesdays for a way to connect and engage with each other. The project began with 300 students and seniors and has expanded to over 25,000 shirts worn across the country.
The outcomes of these connections are:
Mutual understanding,
Improved feelings of well-being,
Decreased loneliness,
Satisfaction from sharing knowledge and experience, and
Enhanced social cohesion.
Connected communities are healthy communities!
North West College has worked with Deb McNabb and her team to create a unique BesTEES t-shirt design that reflects instruction at our college. The design incorporates a heart, pencil and eraser to emulate the education sector. On Tuesdays it is worn by all instructors and staff of NWC.
"I am challenging all Saskatchewan Post-Secondary Institutions that are passionate about making a difference in their respective communities to take up this initiative too" says Dr. Eli Ahlquist, President & CEO of North West College. "The important message that Better Together shares is something we are excited to be a part of, ensuring our students and staff can increase personal connections while on campus, will provide a positive and engaging learning environment."
Numerous organizations across the country, including government branches and sports teams have all joined in this tremendous campaign.
"I genuinely appreciate North West College and their willingness to be leaders in carrying our message forward" says Deb. McNabb. "I felt their heartbeat - to be a community where everyone feels safe, seen, heard, supported, significant and cared for. I thank the College for wearing and sharing our BesTEES and for being ambassadors of our very important message!"
For more information on the Better Together! Initiative please visit the campaign website: www.bettertogethersk.ca.
###
For Media Inquiries, please contact:
Tanya Murphy,
Coordinator, Marketing & Communications
North West College
Direct: 306-234-5188
Cell: 306-240-4049
tanya.murphy@northwestcollege.ca