NWC AND UNIVERSITY OF REGINA SIGN MEMORANDUM OF UNDERSTANDING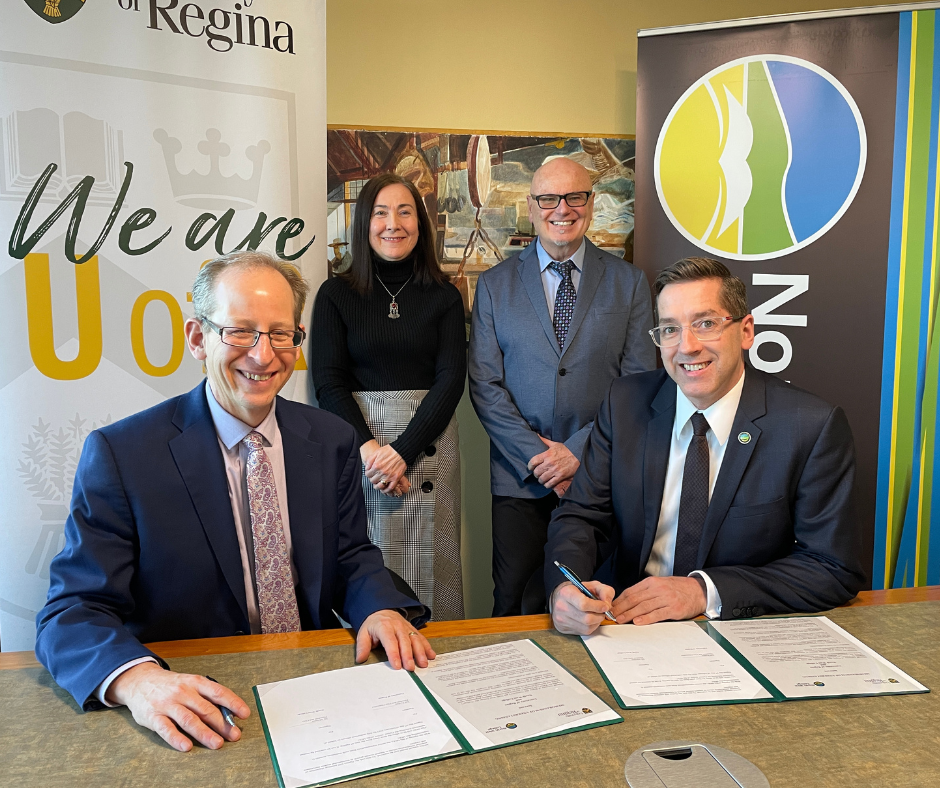 North Battleford, SK – North West College and the University of Regina have signed a Memorandum of Understanding to explore opportunities for collaboration and cooperation. Areas of development include, but are not limited to, a potential expansion of University certificate programs and microcredentials in interdisciplinary disability studies and enhancing access to post-secondary training in areas such as the development of educators (early childhood, elementary, and high school). The partnership will also look to create pathways for learners in a variety of fields to further build on their education.
The two institutions are both dedicated to providing post-secondary academic programming, career training, and continuing education to meet the education, economic, and labour market needs of Saskatchewan.
They share mutual interests in expanding community-based, post-secondary education programs in the Province's northwest region. They recognize that this can be best achieved through collaboration and joint delivery.
North West College and the University of Regina will work in partnership toward the goal of establishing an innovation hub in the Battlefords. This activity will serve to support the College in meeting the needs of regional stakeholders.
"We understand the value a partnership like this can bring to our college," says Dr. Eli Alhquist, President & CEO of North West College. "Collaboration is essential to building opportunity for our students in northwest Saskatchewan, this partnership is essential for ensuring continued access to post-secondary education in rural Saskatchewan."
"Whenever possible, students must have the opportunity to access post-secondary education in their home communities – whether that be in person, via a form of online learning, or through a combination of both – and Saskatchewan's regional Colleges play a critical role in making that happen," says Dr. Jeff Keshen, President and Vice-Chancellor of the University of Regina. "At the same time, universities can provide additional opportunities to further that education through articulation agreements and other initiatives like research and innovation partnerships. With that in mind, this Memorandum of Understanding will unlock a great deal of potential for North West College, for the University of Regina, and above all, for our students and our province."
###
About North West College
Responding to the needs of students and local industry, for more than four decades, North West College (NWC) delivers training and services to facilitate the growth of the communities it serves. The college offers programs in trades, health and community services, academic upgrading and university transfer. It has campuses in North Battleford and Meadow Lake and provides programming for 30 communities, including 20 First Nations communities, spread over 44,000 sq. km.
About the University of Regina
Set in the heart of the Canadian prairies we are a comprehensive, mid-sized university where the opportunities are as limitless as the horizon. Our campuses are on Treaty 4 and 6 territories - the homelands of the nêhiyawak, Anihšināpēk, Dakota, Lakota, Nakoda, and Michif/Métis nations. It is our responsibility to strengthen relationships with Indigenous communities to build a more inclusive future for all. Our three federated colleges, 10 faculties, 25 academic departments, and 18 research centres foster innovative research with practical and theoretical applications. We are committed to cultivating the potential of our 16,000 students and supporting their health and well-being. We take learning beyond the classroom through work and volunteer experiences to develop career-ready graduates.
Let's go far, together.
For Media Inquiries, please contact:
Tanya Murphy,
Coordinator, Marketing & Communications
North West College
Direct: 306-234-5188
Cell: 306-240-4049
tanya.murphy@northwestcollege.ca