North West College receives donation from Meadow Lake Mechanical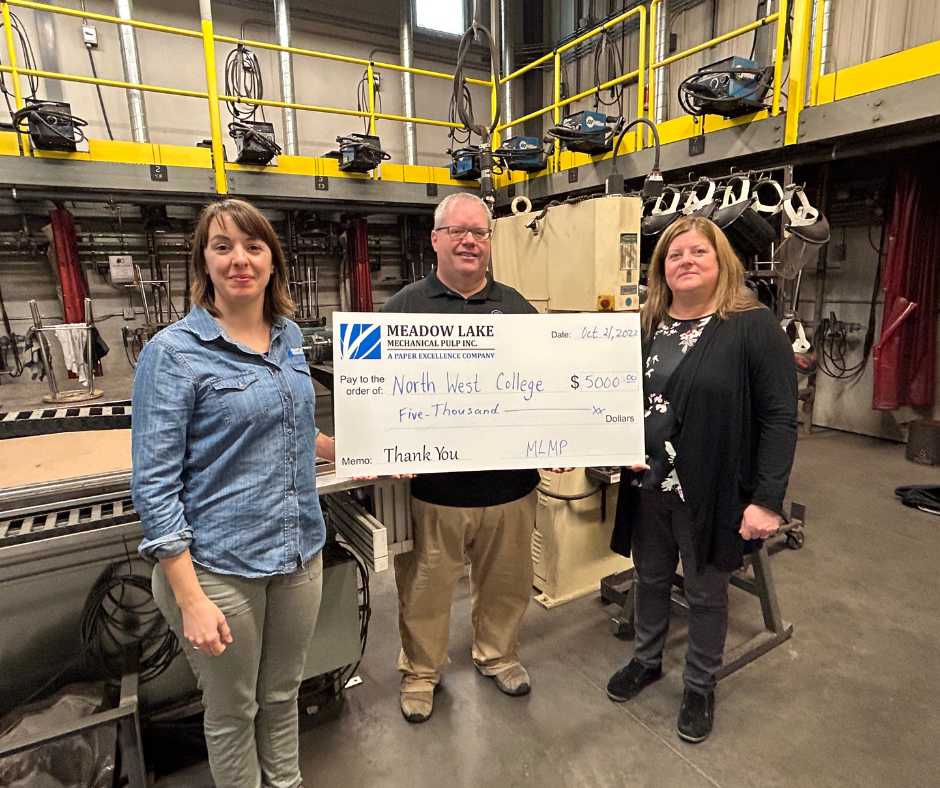 Meadow Lake, SK – Representatives from Meadow Lake Mechanical Pulp Inc. visited our Meadow Lake Campus to tour the welding lab, which will be the beneficiary of the $5000 donation.
"The funds received from MLMP will help update some of the curtaining in our welding lab" said Miles Nachbaur, Manager of Student Services & the Meadow Lake Campus. "It is great to see local industry showing an interest in what we are doing at the College and offering their support to enhance our programs."
Lisa Carbert-Pliska, Human Resources with MLMP, feels that having the opportunity to impact local programs that are providing education for potential future employees is a focus for Meadow Lake Mechanical Pulp Inc. "If our mill can hire locally, it provides stability to our workforce. With a facility like North West College, located right here in Meadow Lake, the opportunities for education in the trades are easily accessible to our community."
North West College, Meadow Lake Campus offers programs in the following trades, Welding, Electrician, Carpentry, Plumbing & Pipefitting, Heavy Equipment & Truck & Transport Technician, Hairstylist and Culinary Arts.
The college is currently accepting admissions for Carpentry and Heavy Equipment & Truck & Transport Technician programs starting in February 2023. For more information contact the Meadow Lake Campus at 306-234-5100 or visit our website at www.northwestcollege.ca
###
About North West College: Responding to the needs of students and local industry, for more than four decades, North West College (NWC) delivers training and services to facilitate the growth of the communities it serves. The college offers programs in trades, health and community services, academic upgrading and university transfer. It has campuses in North Battleford and Meadow Lake and provides programming for 30 communities, including 20 First Nations communities, spread over 44,000 sq. km.
For Media Inquiries, please contact:
Tanya Murphy, Coordinator, Marketing & Communications
North West College
Direct: 306-234-5118
tanya.murphy@northwestcollege.ca